By using the TRP-10 in conjunction with the TRU-10, one can easily create a "radio bridge" to remotely transmit pulses.
The TRP-10 counts pulses and transmits the counter's value per radio. The receiver recreates the same number of pulses.
Thanks to our reliable radio protocol and because the device transmits the absolute counter, no pulses are lost over radio, even in case of transmission errors
These devices operate in the ISM 868 MHz, license-free band. The TRP-10 works several year with a single battery. Operating range between 30 to 800m depending on environment.
Possible applications:
Meter pulses transmission toward industrial automates (water, gas, electricity)
Wind turbine monitoring by transmitting anemometers pulses.
Facility monitoring, door opening detection,...
...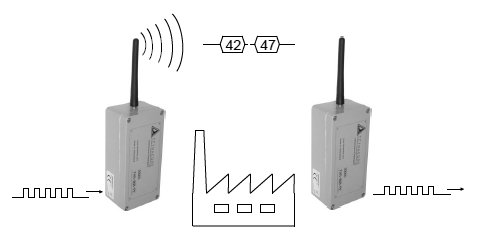 Tetraedre Sarl Company, Copyright ©1999-2020